UAS Workshop Summary is Highlighted by NOAA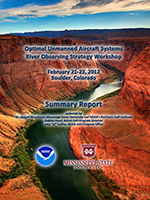 A recent Summary Report on the
Optimal Unmanned Aircraft Systems River Observing Strategy Workshop
is being highlighted on
NOAA's UAS
web site and is receiving much attention from other federal agencies as well. The Summary Report was authored by Dr. Robert Moorhead, NGI director, Robbie Hood, NOAA UAS Program Director, and John Coffey, NOAA UAS Program Office.
The Workshop was held at a National Oceanographic and Atmospheric Administration (NOAA) facility in Boulder, Colorado February 22-23, 2012, for the purpose of bringing together representatives of the NOAA National Weather Service (NWS) River Forecast Centers (RFCs) and representatives of vendors or operators of Unmanned Aerial System (UAS) platforms, sensors, and service providers. The workshop was a step towards integrating UASs into the workflow for the RFCs.
The body of the report summarizes the two days of presentations and discussions. Appendix A contains four tables: the workshop agenda, the workshop attendees, the RFC requirements that UAS could potentially address, and the UAS sensor resolutions needed for the RFC requirements.
The workshop was organized by Mississippi State University (MSU), the prime university in NOAA's Northern Gulf Institute (NGI), and by the NOAA UAS Program Office.
View the full report.
News

NGI-funded Research Published in Land Economics Journal
May 6, 2013 - NGI researchers, Drs. Dan Petrolia and Keith Coble, both of Mississippi State University, have recently completed research about homeowners' participation ...

NGI Researchers Discuss Lack of Oil Spill Research Funding
April 23, 2013 - John Valentine and Monty Graham, NGI Council of Fellows members, discuss the lack of funding with the news media for basic monitoring of marine populations, ...

MSU EcoCAR2 on Display at Infinity Science Center
April 23, 2013 - The MSU EcoCAR2 is on display in the Infinity Science Center at Stennis ...


NGI Researcher Completes Survey on Louisiana Wetlands
April 23, 2013 - Mississippi State University environmental economist Dan Petrolia, an associate professor in agricultural economics and Louisiana native, recently completed ...

NGI Advisor Dave Ruple accepts award for Grand Bay NERR
April 16, 2013 - One of NGI's Advisory Board members, Dave Ruple, was recently in the news after Grand Bay National Estuarine Research Reserve (NERR) where he is manager was ...

Oyster Studies Indicate No Changes in Oil-related Contamination Pre- and Post-Oil Spill
February 12, 2013 - Drs. Ruth Carmichael (Dauphin Island Sea Lab) and Thomas Soniat (University of New Orleans) have led studies using the eastern oyster, Crassostrea virginica, as ...