2023 Hypoxia Monitoring Results Featured in Press Releases and Media Event
August 8, 2023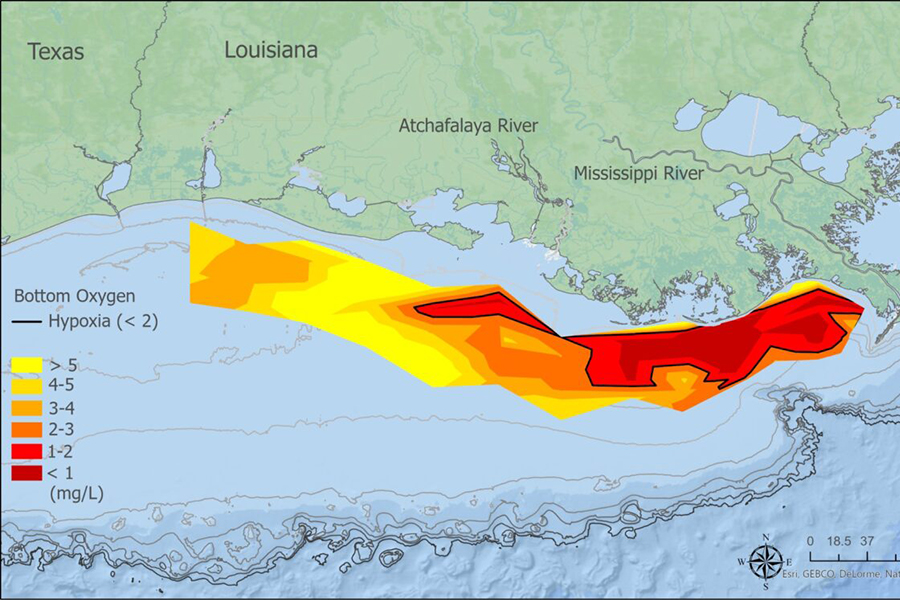 July 22 – 28, 2023 Shelf-wide Hypoxia Monitoring Cruise. Image from the Gulf of Mexico Hypoxia2 website. Graphic submitted.
Scientists completed and published results from their 2023 annual survey expedition that monitors hypoxia or low oxygen in the northern Gulf of Mexico adjacent to the Mississippi River. The National Oceanic and Atmospheric Administration (NOAA) and the Northern Gulf Institute (NGI) provide support for this annual survey cruise, which sails out of the Louisiana Universities Marine Consortium (LUMCON) facility in Cocodrie, LA.
Press releases summarizing this year's annual hypoxia monitoring results include
NOAA and Partners Announce Below Average Dead Zone Measured in the Gulf of Mexico
and the
Louisiana State University-LUMCON Report from 2023 Shelf-Wide Hypoxia Cruise
.
NGI hosted a media event "The Measured Size of the Gulf of Mexico Dead Zone and Efforts to Predict and Mitigate its Effects" that included summaries and explanations by experts and stakeholders followed by a Q&A session with representatives from the press. NGI Co-Director Dr. Paul Mickle moderated the discussion, which included these guests:
Nancy Rabalais, Ph.D., Louisiana State University Professor, Louisiana Universities Marine Consortium Distinguished Professor, and Co-Principal Investigator of the Hypoxia Studies
David Kidwell, Director of the Competitive Research Program for NOAA's National Centers for Coastal Ocean Science
Bruno Pigott, Deputy Assistant Administrator Office of Water Environmental Protection Agency and Hypoxia Task Force Co-Chair
Mike Naig, Secretary of Agriculture Iowa Department of Agriculture and Land Stewardship and Hypoxia Task Force Co-Chair
Lori Sprague, Program Manager Integrated Water Availability Assessments Water Mission Area U.S. Geological Survey
Audio Recording of the One-Hour Media Event
Monitoring the Gulf of Mexico hypoxic zone helps advance the science that underpins its management by scientists, modelers, resource managers, and other stakeholders. Data from the annual expeditions help measure progress toward achieving nutrient management goals set forth in the Gulf Hypoxia Action Plan and are incorporated into biogeochemical and hydrodynamic models for forecasts and hindcasts.
The
Northern Gulf Institute
is a NOAA Cooperative Institute with six academic institutions located across the US Gulf Coast states, conducting research and outreach on the interconnections among Gulf of Mexico ecosystems for informed decision making.
By
Nilde Maggie Dannreuther
, the Northern Gulf Institute, Mississippi State University.