NGI Research Partner, Louisiana University's Marine Consortium, State that Oxygen Levels are Just Slightly Lower than Forecasted, but still 8th Largest Gulf 'Dead Zone' in History
August 1, 2019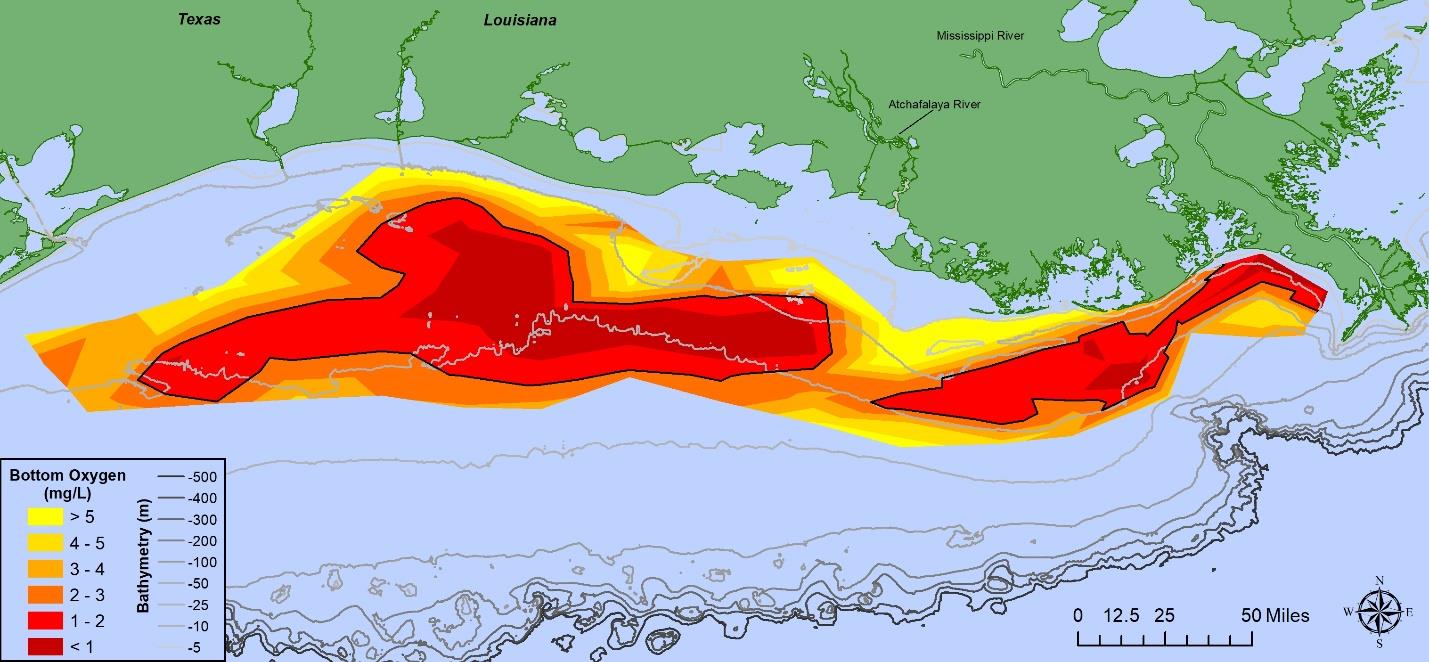 Distribution of bottom-water dissolved oxygen, July 23 – July 29, 2019. Black line denotes dissolved oxygen 2 milligrams per liter (mg l-1) or less. Data source: N. N. Rabalais, Louisiana State University & Louisiana Universities Marine Consortium; R. E. Turner, Louisiana State University. Funding: National Oceanic and Atmospheric Administration, National Centers for Coastal Ocean Science.
The bottom area of low oxygen in Louisiana coastal waters west of the Mississippi River was lower than expected when the forecasted size was predicted based on May nitrate load. The area was 6,952 square miles (18,000 square kilometers), approaching the land area of New Jersey, but well below the predicted size of 8,717 square miles (22,557 square kilometers). The 2019 summer size ranks the eighth largest among the 33 years with similarly mapped areas.
The scientists and crew worked from the Research Vessel Pelican to map the 2019 summer area of the 'Dead Zone' from July 23 through July 29 and returned to the dock on July 31. The 'Dead Zone,' as the area of bottom-water considered hypoxic, includes dissolved oxygen levels less than 2 milligrams per liter (equal to 2 ppm). Low oxygen levels were found at 47 of 97 stations from the Mississippi River west along the Louisiana coast to west of Galveston, Texas. Many other water quality and physical oceanographic data were collected along with the bottom-water oxygen values.
To read the full report, please click here.