HPC2 Colleague and MSU Alumnus is Navy's First Female Supercomputing Director
April 21, 2023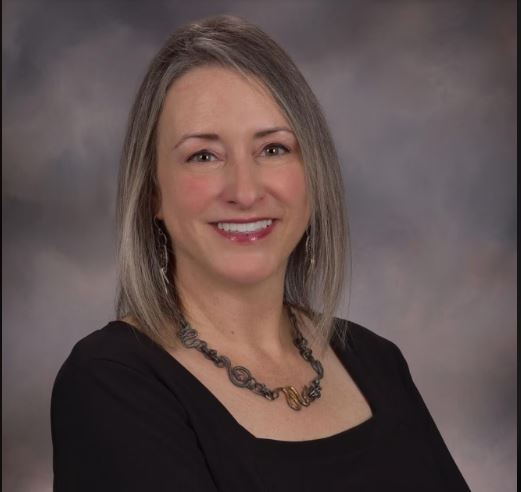 A Stem Professionals Journey: Navy's First Female Supercomputer Director, Christine Cuicchi
Naval Oceanography is home to the U.S. Navy's first female Director at the Navy DoD Supercomputing Resource Center (DSRC), Ms. Christine Cuicchi. Considering the vast amounts of data collected, analyzed and distributed around the globe through Naval Oceanography's unique capabilities and techniques, the agency is fortunate the tall order of business and technical skill to manage and store that data rests in the hands of Cuicchi.
Upon first look at her professional accomplishments of operating the DoD's largest supercomputer; or challenging leadership roles where Cuicchi shepherds 30 petaFLOPs of computing power to over 3,000 RDT&E, S&T*, and acquisition professional throughout DoD—it is obvious her professional posture is grand and proven. Yet, the full extent of Cuicchi's superpowers exceed beyond technical skills; it's her effect on people that seems to be as impressive as her professional self. (*Research, Development, Test & Evaluation, Science & Technology)
"Christine is an amazing leader!"
Dr. William Burnett, Director of National Data Buoy Center (LinkedIn 2023)
"Christine is awesome, [She] means so much to the Navy DSRC, the DoD HPCMP, and me...so thankful [she] is part of the great HPCMP Centers team."
Frank Witzeman, Associate Director for Centers at DoD High Performance Computing Modernization Office (LinkedIn 2023)
"I feel so lucky to have worked with you!"
Dr. Anne F., Senior Technical Director, Committee on Foreign Investment in the US (LinkedIn 2023)
"Proud to have worked with you on many efforts for your Navy."
(Ret.) Chief Scientist, Office of Oceanographer of the Navy (LinkedIn 2023)
The Aerospace Engineer and Mississippi State University graduate wrote an inspirational detail of her journey as a STEM professional into the world of military and defense. The written piece was featured with the International Conference for High Performance Computing, Networking, Storage and Analysis and Women in High Performance Computing.
Here's Cuicchi's ground-breaking personal account of her STEM professional journey . . .
My HPC career started in the early 1990s when I took a job as a "grid kid," building computational grids to support the work being done at the Mississippi State University (MSU) Engineering Research Center while I was completing my undergraduate degree in aerospace engineering. Combine that with six summer weeks spent participating in the Army High Performance Computing Research Center Summer Institute where I cut my HPC teeth on a Thinking Machines CM-5 (which made its big screen debut in Jurassic Park that summer!), and I was hooked. When it came time to choose a master's degree, studying computational engineering was a natural fit. This is where I began to deviate from aerospace-specific work, focusing on particulate dispersion in the bronchial tubes—something that felt to me like it could really have some benefit to the world.
After graduation, my career has taken me into military and defense, where I have had an incredible journey from computational engineer, to Associate Director of five HPC Centers, to now the Director of the Navy DoD Supercomputing Resource Center (Navy DSRC). One of the most interesting things about moving into leadership is that when you are leading 'at scale' - holding responsibility for millions of dollars in budgets and hundreds of people - you can't directly interact with everyone, so you learn to lead by influence. That uniquely challenging position prepared me infinitely well for my role as the SC20 General Chair, leading over 750 people through three years of conference planning which included transforming a normally in-person conference to an all-virtual conference in less than seven months - all from my living room in a small town on the gulf coast of Mississippi.
As the first female Director at Navy DSRC, I know I'm breaking ground. I'm incredibly proud of where I am, especially the fact that thanks to my phenomenal deputy director Ms. Jennifer Rabert, we are the first (and currently only) female DSRC Director/Deputy Director duo to have occurred in this space. Getting to this point, especially in the southern U.S., was pretty tough. It still is, so it is my hope that women like Jennifer and myself can demonstrate that not only do we have a significant technical contribution to make, but that a path is being cleared for women to provide leadership in government HPC endeavors as well. Ensuring diversity in the government environment can be difficult, so representation for those considering working here is the most important tool we have.
My name is Ms. Christine E. Cuicchi, and I serve as Director, Navy DoD Supercomputing Resource Center (Navy DSRC).
The HPCMP provides the Department of Defense supercomputing capabilities, high-speed network communications and computational science expertise that enable DoD scientists and engineers to conduct a wide range of focused research and development, test and evaluation, and acquisition engineering activities. This partnership puts advanced technology in the hands of U.S. forces more quickly, less expensively, and with greater certainty of success. Today, the HPCMP provides a comprehensive advanced computing environment for the DoD that includes unique expertise in software development and system design, powerful high performance computing systems, and a premier wide-area research network. The HPCMP is managed on behalf of the Department of Defense by the U.S. Army Engineer Research and Development Center located in Vicksburg, Mississippi.
Naval Oceanography has approximately 2,500 globally distributed military and civilian personnel, who collect, process and exploit environmental information to assist Fleet and Joint Commanders in all warfare areas to guarantee the U.S. Navy's freedom of action in the physical battlespace from the depths of the ocean to the stars.
By Jonathan B. Holloway
U.S. Navy Meteorology and Oceanography Command